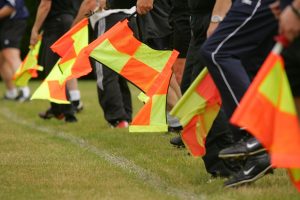 The BOBi League is currently recruiting new referee's for the 2017/18 season and beyond. If you are a currently qualified referee then we want to hear from you. Several opportunities exist for referees to further advance in Disability Football past the BOBi League. There are currently opportunities to referee in National Disability Competitions and even International Disability Competitions. All referees are paid for their participation in BOBi League events.
This season the BOBi League is also offering a limited opportunity for anyone that would like to become a referee to apply for a referee bursary through a BOBi League Referee Scheme. Successful applicants would be eligible for 100% funding towards the course with a commitment to referee in the BOBi League for at least one season.
If you would like to find out further information about becoming a referee in the BOBi League or the Referee Bursary Funding please contact our Referee Coordinator Gary Costner on royal_football_rox@yahoo.co.uk.